Written by Christian Graf on 27. June 2018 at 14:27.
Find sponsors & create accessibility: That's the way!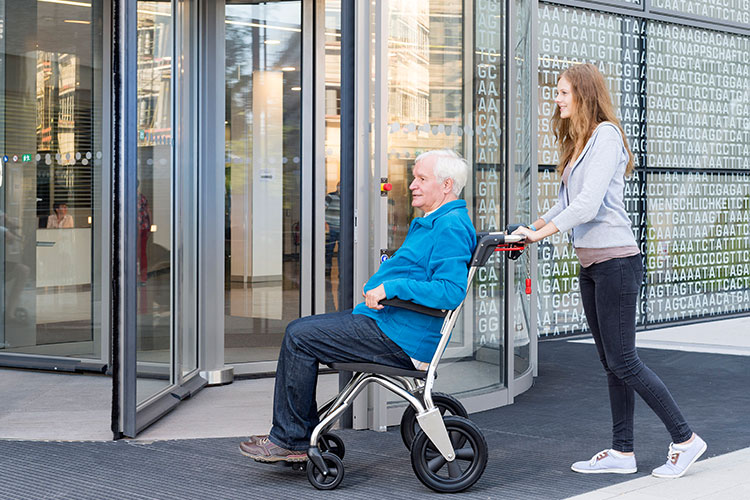 You are certainly already feeling the demographic change: Society is getting older, and the need for accessibility in public spaces is steadily increasing. But how to create accessibility if there are not enough funds available? It's easy – here you can find out how you can win sponsors for yourself.
A sticking point when it comes to accessibility is the budget. For museum operators, hotel and restaurant owners and owners of shopping centres and amusement parks, all-round service for their guests is often a top priority. So how can the necessary measures be taken to satisfy all your guests?
Accessibility in public spaces – Why is this important?
Demographic change in Germany has a considerable impact on public space: People are getting older, the quantitative ratio of men and women, the proportion of nationals and foreigners and the birth rate are changing.
Especially in one point the owners, operators and managing directors of public institutions must therefore take measures: Older people are less mobile and may need support. Some then shy away from planning activities or taking part in activities.
But do you therefore have to do without this target group? Certainly not!
Moreover, it not only helps the older generation to make walking and access routes in your museum, hotel, restaurant or shopping centre barrier-free. Even pregnant women sometimes need a break and are happy when they don't have to climb stairs or can just sit down from time to time. The same applies to people with short-term mobility impairments (for example after surgery or sports injuries).
Creating accessibility is therefore important to enable all these people to access your facility. After all, guests are happy to come back if they know that this point has also been taken into account in their customer service. You will not only gain new customers, but you will also be able to retain regular customers in the long term.
This also allows you to establish a positive image as a modern and considerate company that places the well-being of its guests first. In turn, this secures you important competitive advantages.
Do you know SAM? The elegant alternative to the wheelchair
With the SAM (sit and move) mobile transfer chair, as offered by Provita, you create a completely new dimension of accessibility. This modern tool enables extensive mobility, whether in the cultural or gastronomic field.
For people who are not permanently dependent on a wheelchair, the mobile service chair is an elegant alternative that can be used in short term. SAM can carry up to 150 kg, is safe to handle and does not tip over when the seated person rises again. In addition, the chair is particularly mobile – despite its robust and stable design.
With such an elegant companion on castors you not only support your guests when they want to rest and but you enable a maximum of mobility. Your customers will appreciate this additional service!
SAM also for your furnishing – simple and flexible
The advantage of SAM: He can be borrowed at any time. You know the principle from shopping trolleys – SAM is available at the entrances and is simply released with a token or a chip if required. This makes the service chair very flexible to use. After use it is simply returned to the deposit return.
Especially people who are not permanently dependent on a wheelchair can thus increase their mobility. SAM's solid construction guarantees a long service life – quality "Made in Germany".
Are you wondering how you can establish SAM in your institution? An investment in accessibility is always a sensible investment. It is however, important to keep an eye on the budget. In order for you to be able to offer this special service on your site or in your premises, the support of sponsors is very helpful.
In the next section you will learn about the advantages for sponsors and how you can win over potential supporters with these unbeatable arguments.
Sponsorship inquiry: How to do everything right from the start
When looking for sponsors, it is not only the arguments you can present to potential supporters that are important. It is crucial to build trust. That's why you should communicate transparently with potential sponsors right from the start and disclose what you want to invest in.
The following information helps convincing your counterpart of your idea and your sovereignty already with the sponsoring inquiry:
What do you want to use the sponsorship funds for?
Who benefits from the commitment (in your case, people who are less mobile but want to visit your facility)?
How well known is your facility? What are the visitor numbers?
What is the public image of the establishment (press reports)?
Is your institution also represented in the social media?
At best, write this information directly into the sponsorship request. This way you make a professional impression right from the start and provide the potential sponsor with a comprehensive overview.
Efforts of persuasion: These 5 arguments help in finding sponsors
In order to find sponsors successfully, you should have all the advantages at hand. The following five arguments will certainly help you to convince potential supporters to support.
Argument 1: Companies can also advertise
An advertising space is available on the transfer chair where your sponsors can advertise their company. From a sponsor's point of view, this offers clear advantages: Customers who use the transfer chair in your facility will become aware of the company and at the same time find it positive that the sponsor offers them additional mobility.
In this way, your sponsor may reach people who have not been aware of him or her before. This is an unbeatable advantage, especially in shopping malls: Retailers, cafés or service providers can advertise on site, the customer can pay them a visit on the same day.
Argument 2: Competitive advantages for your sponsors
Additional advertising on the special wheelchair gives sponsors a clear competitive edge. In addition to the attention they have gained, they can use an advertising space that is not yet so widespread.
Your sponsor stands out clearly and is positively distinguished from its competitors. The transfer chair also offers an advertising space that is not easy to walk past and ignore. The engagement of your customers with the advertising company is therefore much more intensive and remains liable.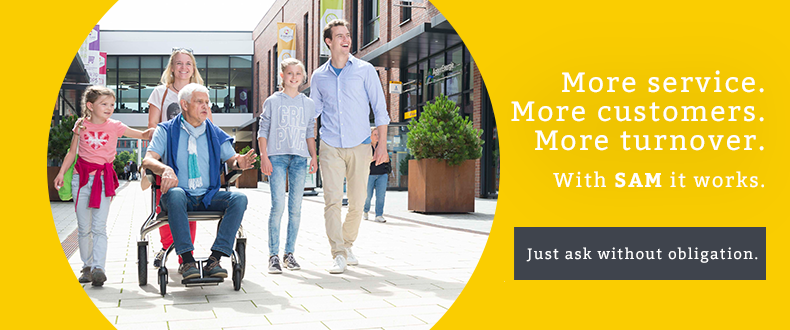 Argument 3: A positive image for your company
Which company does not like a positive image as a supportive, social and people-oriented institution? By investing in more mobility and accessibility, your sponsor stands out as a socially committed company – a very clear image boost for consumers!
Argument 4: Reach in the social media
With a post in the social media (for example on Facebook or Twitter) you can publicise the cooperation between you and the sponsor. Both your institution and your supporter will thus achieve greater reach, especially with a younger target group.
This also strengthens the image already mentioned and the sponsors level of awareness.
Argument 5: Sustainable customer loyalty
Customers are particularly valuable to a company when they are convinced of a product or brand over the long term rather than just making a one-time purchase. In the best case, they even become public supporters themselves.
With social commitment and closeness to people, companies can retain their customers in the long term. They appreciate the added value for society and feel connected to the company on a personal level – the purchase therefore goes far beyond the interest in a product.
Consumers who are convinced of the quality and personality of a company will buy more often and can thus be won as regular customers.
With these five strong arguments you can win over sponsors more easily in order to support mobility for your customers. So if you would like to make your museum, your hotel or your amusement park barrier-free and ensure better mobility, but need help with financing, then please fall back on our tips.
For example, transfer chairs such as SAM can also be financed in your facility. This means sustainable customer loyalty for you and additional mobility for your visitors – a win-win situation!
Conclusion: How to find successful sponsors
With a smart everyday companion like SAM, you as an operator of a public facility can provide additional accessibility and mobility. Elderly people, pregnant women or short-term injured people are dependent on this kind of support and will appreciate your additional service very much!
Sometimes, however, the budget is not sufficient to invest in measures for greater accessibility. Then it makes sense to find a financial supporter who would like to support you in your social commitment.
This results in numerous advantages for you and your sponsors: Additional advertising space on the transfer chairs, competitive advantages over the competition, a considerable image gain, more reach and lasting customer loyalty. With these arguments in your pocket, you can convince companies to support you financially in the purchase of special wheelchairs.
Would you like to invest in additional accessibility? You can now get to know SAM without obligation!