Written by Christian Graf on 8. June 2018 at 7:47.
Rent a wheelchair: It's as easy as using shopping carts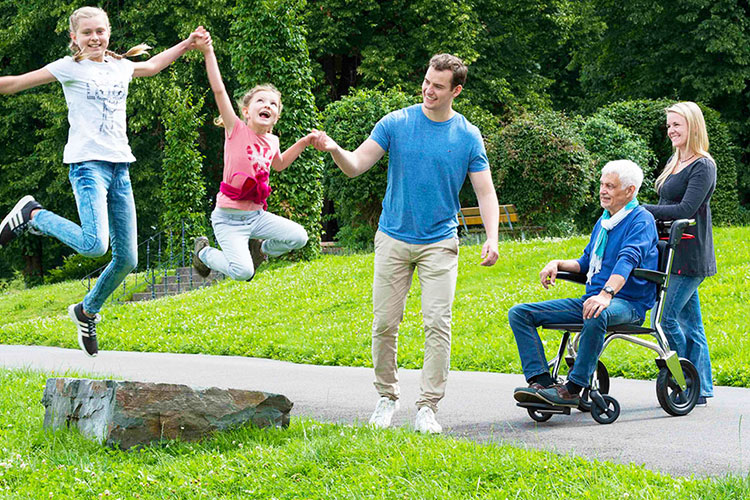 "The customer is king." This is the motto in almost every industry, whether in a restaurant, a hotel, a shopping centre, a municipal institution or a cultural institution. So why not just put the king on a rolling throne? Find out here what a modern transfer chair can do and what benefits you and your customers can derive from it.
Offer people accessibility and mobility
Some people are restricted in their mobility but would still like to be more active and do more. But public places often represent hurdles for them.
As the owner, operator or manager of a location frequented by many people, you can make sure that these people are happy to come to you again because you support them. Provita SAM is an easy way for them to keep moving.
This service is not only aimed at older people, but also at temporarily disabled people (e.g. after a sports injury) or people who would like a little more comfort, such as pregnant women.
They all have one thing in common: They want to have a normal life style and as little restricted as possible. Here, an adjustment to this in shopping malls, amusement parks, museums or hotels will ensure more attention and better customer loyalty.
The offer to rent a wheelchair or – even better – an elegant transfer chair like SAM – is certainly part of the perfect service.
How does a wheelchair work?
We have developed a solution to this problem and call it SAM: Sit and Move. SAM is much more than a wheelchair – it is the clever, mobile everyday helper for the entire public area. You can use it to offer unlimited mobility in your restaurant, hotel, shopping centre, municipal institution or cultural institution (from museums to theme parks to zoos).
The special wheelchair is stable and can carry up to 150 kg. It is safe and comfortable, space-saving and stackable. You can also choose the deposit return system (shopping cart principle), coin or card – both are possible.
Because if you really want to satisfy all customers and offer them the best service, a modern chair on castors like SAM is indispensable. After all, the best service includes movement support, which you can easily provide with SAM.
Who is the offer to rent a wheelchair aimed at?
Create your location as a barrier-free place, because this will become increasingly important in the future, if only through demographic change. Show that your customers and guests are important to you and give everyone a chance to reach you.
Which target groups can you address specifically? They differentiate:
People who are physically disabled for weeks or months after a sports or work accident. That can happen to anyone and wouldn't you be grateful to find support in a place that will make your journey easier?
People with walking disabilities or tired legs: Whether in shopping malls, museums, hotels or restaurants – long walking paths or sloping plains represent hurdles that can suppress the good mood of an excursion. A transfer chair is a great help here.
Older people often have to struggle with illnesses such as arthritis, rheumatism or osteoporosis. They in particular need support with the mobility that you can offer them with SAM.
Pregnant women are often not allowed to overexert themselves and get tired legs faster. But the women are pregnant and not ill – they want to continue their accustomed life: shopping, travelling, experiencing culture. Nevertheless, they are grateful for any support they may need, and with a chair on castors you can provide them with a piece of comfort. A service that they will certainly appreciate.
Those who stand behind the chair, the accompanying persons, also benefit from the offer to rent a wheelchair. Because it relieves them, so that they can spend a relaxed and beautiful day without complications during transport and long breaks with their loved ones.
As you can see, there are many different reasons why people are unable to visit your institution. So don't lose these customers – especially not your regulars! Because if your customers know that you welcome them with an easy-to-rent aid, nothing stands in the way of an excursion to a centre or amusement park, for example.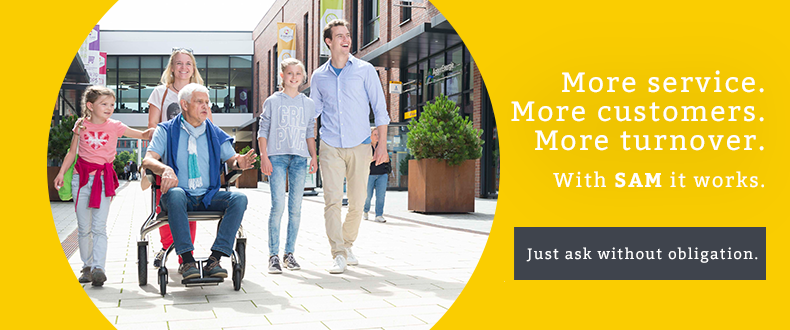 5 advantages for you if you create accessibility
Of course, you ask yourself what you as an entrepreneur gain from making wheelchairs available for rent. However, a modern transfer chair has advantages not only for active users but also for the provider:
You benefit from more customers and thus also get more turnover, because by providing the chairs you can also reach people with limited mobility and win them as loyal and grateful customers.
Image improvement: The combination of best service in a barrier-free location is very important and is often recommended, for example in the local press, on-line reviews and travel guides.
An image advantage over competitors. After all, you address a broad target group of customers: Pregnant women, people with disabilities or injuries or elderly visitors who are physically impaired – they can all enjoy a visit to your location or premises thanks to the accessibility offered.
More safety: You can reduce the risk of less mobile guests having an accident, simply by using the smart safety solution. The SAM transfer chair is safe and easy to operate.
Marketable advertising spaces for personalised advertising directly on the aid make additional earnings possible. In addition, the advertising is moved by the users of the wheelchair and appears everywhere around your facility, attracting attention.
A mobile chair is therefore a worthwhile investment for a company with customer traffic, especially when you consider that chairs like SAM can be used long and intensively due to their stable construction.
The "rent a wheelchair" principle
You can imagine that, just like the classic shopping trolley. Set up parking areas or collection points for the special wheelchairs. There, the transfer chairs are available for your customers and guests during the all opening hours. If required, they can simply be solved with a stamp or card and then used.
Conclusion of renting a wheelchair with SAM
SAM is a far cry from being a classic wheelchair – he is a clever everyday helper on wheels. Its manoeuvrability and simple operation make for advantages. And it cuts a good figure both indoors and outdoors.
SAM supports people of all ages who are temporarily or permanently restricted in their mobility and relieves their companions. The whole thing works according to the shopping cart principle and makes joint activities possible again. Despite their handicap, they are not excluded from active life.
If you decide to help your customers with the special wheelchair, you have many advantages: Like this, you get more customers and thus also more conversion, an image improvement, more safety and additional incomes by advertisement directly at the aid.
Take advantage of all these benefits for yourself and your facility. Get to know SAM from Provita without obligation!