Written by Christian Graf on 7. June 2018 at 9:28.
Alternative to the wheelchair: 3 major advantages of a transfer chair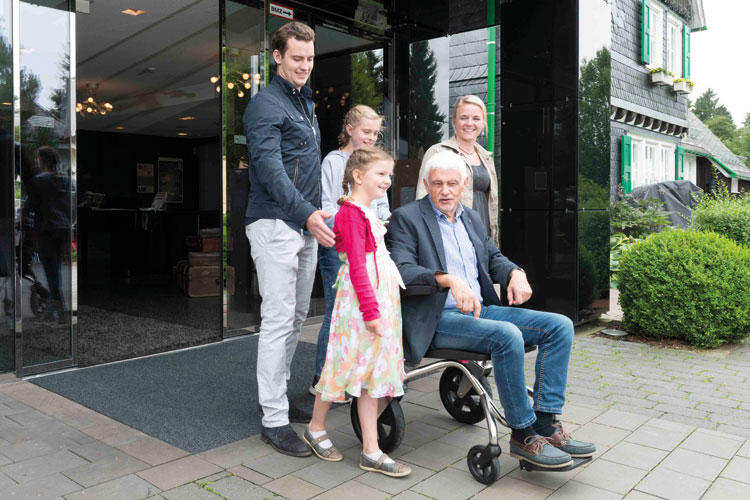 Accessibility is becoming an increasingly important issue, especially in public spaces. In order to offer your guests even better customer service in this respect, practical helpers are particularly recommended when it comes to mobility. Like a transfer chair, which is also a chair on castors, but has some advantages over the classic wheelchair. Find out what they are.
Already barrier-free and mobile for your customers?
You run a shopping centre, restaurant, hotel, museum, amusement park or similar facility? Then you should pay attention to accessibility! Many people who are not so good on foot still want to be mobile and actively spend their free time. However, they are unable to do so due to various health restrictions.
You should therefore make it easy for them and pay attention to barrier-free accesses, toilets or also support by aids. A mobile chair is definitely one of them. If you are not permanently dependent on a wheelchair, you will be grateful if you can temporarily use a modern, elegant rolling base, because you might have, for example
a sports injury
require support in the short term after an operation
be pregnant
get circulation problems in the heat
and so forth
Despite all this, accessibility is of course also aimed at people who cannot do without their wheelchair due to illness. Here, too, there are often hidden opportunities to retain regular customers and win new ones.
As the owner, operator or managing director of a publicly accessible facility, you open up new customer potential or gain prestige over your competitors by offering a drivable bases such as SAM from Provita.
Because people appreciate your service, which otherwise are not in the focus!
If your goal is to offer guests the most comfortable stay possible in your shop, you can complete your perfect service with SAM.
What is SAM? A chair on castors, but not a normal wheelchair
SAM is an alternative to the conventional wheelchair, because it is a clever and robust aid for extensive mobility and accessibility in public facilities – whether in the catering or cultural sector.
Mobility offers today should be modern and up-to-date and created especially for the sectors. Sophisticated equipment is appreciated by customers and guests to avoid having to resort to emergency solutions from the medical supply company.
With this modern chair on castors you can offer your customers the comprehensive service they expect. This also includes support in movement on your site or in your premises.
But what makes SAM so special and what are the differences compared to a regular wheelchair? We have clearly summarized the 3 advantages of the transfer chair for you:
Stability, manoeuvrability and durability
Compared to a wheelchair, the seated person can quickly get out of the chair with SAM without the risk of tipping over, as is often the case with cheap, foldable wheelchairs. In addition, the aid can carry loads of up to 150 kg, is very safe and comfortable. Despite its pronounced stability, the chair remains manoeuvrable and easy to move.
The special transfer chair is extremely robust due to its good workmanship. The solid construction and the "Made in Germany" seal guarantee you a long service life – even for years of intensive use. Ideal for daily use in shopping centres, at the station, in universities or at the airport.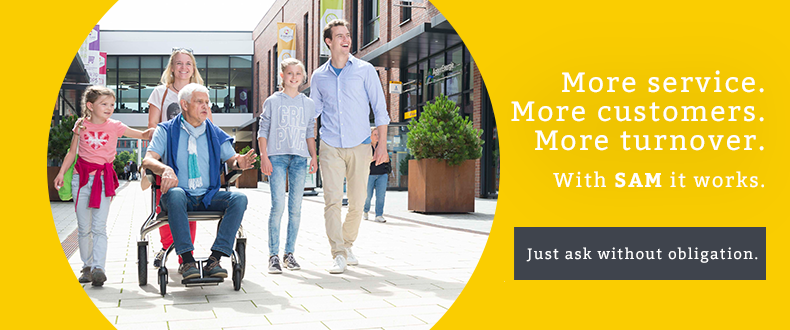 An elegant tool on castors
SAM is a modern transfer chair and not a medical wheelchair. This is also reflected in the design, because it is not only useful, but also chic.
This appeals to many people, including those who previously vehemently resisted walking aids such as walkers. After all, active seniors today do not want to be perceived as frail just because long walks are a little tedious. Mobility is important to them, but please not with the label "old"!
In addition, the users of such a helpful offer come from all population groups – support with mobility is a topic that can affect each of us.
Are you therefore also looking at customers for your company who are only temporarily restricted? Have you twisted your knee or strained your foot? You will not buy your own wheelchair for a few weeks or months, but are extremely grateful if a mobile chair can be hired. Thus an extensive shopping trip or a visit to the adventure park is no problem.
Plus: It is ideally suited for public places, whether indoors or outdoors.
Because the chic chair on castors doesn't rattle and takes part in every movement – even on gravel or through potholes!
As easy to use as a shopping cart
Each of us goes shopping more or less regularly, so we all know the shopping cart principle and that's exactly how it works with the transfer chairs: The special wheelchairs are available for rent for your guests in extra parking zones or at meeting points during opening hours.
They are stackable and therefore do not take up much space. If you need one, you can easily borrow a SAM via the intelligent deposit system. Everything runs very uncomplicated and does not have to be explained in great detail.
But SAM does not only have these advantages. Creating accessibility for your customers will not only make your customers happier, you as an entrepreneur will also benefit greatly from SAM. We have summarised how this works for you in this article.
Conclusion: The advantages of a transfer chair over a wheelchair
Isn't it a pity: Some people do not dare come to your shop or location because of their current physical condition. Support your guests and potential customers by providing them with SAM from Provita.
Like this, you give them back confidence in themselves and a safe possibility to visit your facility (shopping mall, museum, restaurant, amusement park, zoo, university,…).
With a transfer chair you can provide your visitors with extended mobility and accessibility. Not only has it a load capacity of up to 150 kg, but it is also very safe and comfortable as well as manoeuvrable, mobile and suitable for indoor and outdoor use.
Because SAM is so robust, it also has a long service life, wear is minimal despite years of intensive use. Handling is equally simple. Customers can rent a transfer chair via the intelligent deposit system at the designated collection points using a card or coin.
Take advantage of these benefits for yourself and your facility. Get to know SAM from Provita without obligation!