Written by Christian Graf on 12. March 2018 at 16:30.
Best Service? More Profit? Yes, through accessibility!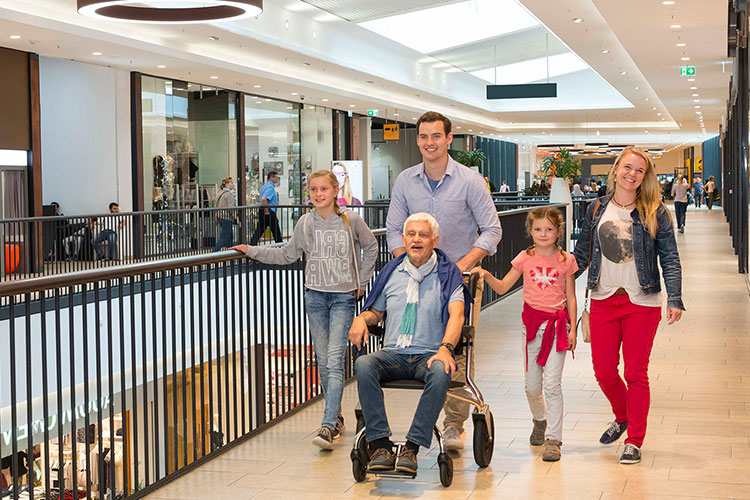 The best service for your customers – which Restaurant, Hotel or Cultural Facility did not make this their priority? But do you still know every way possible to be really attractive to your customer? This is exactly what this article is all about and how you can reach people in the ages between 8 and 80 with an outstanding service by attracting more guests thus generating more revenues. It is actually very simple.
Gaining new customers: the Baby-Boomer
Everyone knows it, everybody feels it: the demographic change. In Germany, there are more and more older people and where our society needs to adjust to.  Because one thing is clear: The Baby-Boomer comes at ages of retirement and these seniors are a lot different than the last generation. Active, fully self-contained and financially well-positioned.
It is a customer group that indulges itself in everyday life, just to be a part of it without missing a thing. And this group belongs to the biggest and high-consumption guests in Restaurants, Theaters or Shopping Malls. In fact, your ideal customers as a manager in the gastronomy and place of cultural interest.
But somehow, these people still not coming to you. Not because they do not want to, but because they cannot. Regardless of how mentally fit and full of joy the elderly nowadays are – their body often does not go along.
Age-related diseases such as osteoarthritis, rheumatism or osteoporosis call out for support in mobility. If you recognize this and focus your locality – from hotel to museum to community facilities – then you have gained a lot.
Not only grateful and therefore loyal customers but also, a huge image improvement and last but not least – more sales.
Why do I need accessibility for my guests?
Accessibility can be a bulky word sometimes. But now, it is also an integral part of public life. For example, no shopping center manager can afford to turn his mall into an insuperable obstacle for people with disabilities. Nowadays, it is a given to make places accessible to everyone. But are they really?
Put yourself in the position of one of these persons. For example, with a walking disability:
How long are the walking distances at your location?
Are there many unequal floors?
Are you keeping enough places available for resting?
Do you have sufficient banisters in case of needing one for support?
Are you offering active support such a portering chair that can be rented or borrowed?
Provita can help you with this last point: if you value the importance of meeting all customers needs and providing them with the very best service, you cannot avoid using aids such as a wheel chair – we, do prefer to call it: transfer chair!
Do not be discouraged by the term wheel chair: SAM is a modern chair on wheels that does not look like a medical device. But radiates independence and elegance.
After all, users do not want to be perceived as being in need of care, but as people who have everything under control. They just need help with movement.
Potential for more Accessibility: a wheel chair as an example
Many elderly people want to stay mobile for as long as they can – but consciously do try without walking aids such as wheel chairs and walking frames. Because at the end of the day, nobody wants to seem old and frail.
However, they limit their own mobility, which is a pity for themselves but also for the places they would like to visit. No win-win situation. Make available a modern tool such as SAM  – and it all would look completely different.
The mobile transfer chair: More accessibility, mobility and revenue
Of course, there are supports such as walking frames or the classic wheelchairs. But those who are not permanently handicapped, for example: those who are just recovering from a fall, will hardly buy such a helpful tool. Temporarily or partially restricted people often feel sick and would like to dependent on something.
Mobile transfer chairs solve this issue. They clearly stand out from conventional wheel chairs through their elegant and modern design, being at the same time ideally suited for use in public places:
Intelligent mobilisation: In the contrary to normal wheel chairs, the seated person can get up quickly without the risk of tipping over.
Thanks to their sturdy construction, they can be intensively used for years without high costs resulting from retrofitting.
By means of an intelligent deposit system (shopping cart principle), the chairs can be easily borrowed.
Several chairs can be stock in each other to save space.
Marketable advertising space on the frame allow additional revenues.
Would you like to test it? Gladly, we would like to show you our mobile transfer chair SAM in person. Just make an appointment with us: c.graf@provita.de.
Who profits from accessibility? Business owners and customers!
Therefore, the issue of accessibility is not only important for people with disabilities, but also creates positive effects for managers of public institutions. Sooner or later, all of them will benefit from barrier-free locations:
More and more older people
Statistics show that in this country, the age group of over 65 are particularly and often affected by physical disabilities and an impaired perception of sensation. The vast majority were not innate handicaps. They are the results of illness, accidents or advanced age.
With a rising life expectancy, it is most likely that the number of those affected ones will continue to grow in the next few years. The design of accessible public spaces such as shopping centers, museums, hotels or restaurants will become increasingly important in the near future.
People with temporary disabilities
Whether an after sport or work accident – physical restrictions can temporarily affect anyone. Sometimes, you need weeks or even months of support to be able to move whether in or out of the house. Elevators, railings, wheel chairs, benches or ramps are suddenly becoming indispensable tools to move in a quite unrestricted and independent manner.
Relatives of handicapped people
Anyone traveling with a family member who is at least in any sort of way physical impaired – is grateful for any form of help. For example, if a fairly strong man is walk-restricted, a lighter woman will have significant difficulties supporting him whilst walking. Here, a wheel chair is the perfect solution.
If those affected ones would like to visit a cultural, educational and recreational facility or even a shopping mall, an escort is usually inevitable. Accessibility thus creates relief for the whole family when these facilities can offer help with lendable walking aids.
Parents, children and pregnant women
For parents, long journeys with pushchairs or baby buggys mean additional stress.
Building measures for level paths, clear signage (eg to baby change) or elevators can solve this issue.
And have you ever thought about: even pregnant women appreciate the service of a comfortable chair in order to be able to participate in all activities despite tired legs?
Business owners, Managers from public facilities
Building Barrier-free usually implies financially and seasonally high costs. However, these expenditures offset the benefits achieved by:
Accessible inner cities remain alive with positive economic effects for retailers through pedestrian zones and shopping malls. Older people, in particular, prefer inner cities where they know their way around and are easily accessible to them by public transportation.
Leisure facilities (museums, zoos and amusement parks) with barrier-free access attract families. Furthermore, the necessary safety (liability) in recreational facilities, can also increase the number of visitors.
Barrier-free restaurants and hotels are positively rated online and can even summit extra points in comparison to local competitors.
Which measurements additionally increase the accessibility?
Build Barrier-free
Accessibility takes into account a variety of physical and sensory constraints in area planning to improve access to public buildings. So you will find in the DIN 1840-1 an extensive specification list for the design of areas (including corridors, parking spaces, sanitary facilities, stairwells).
How much space do people need with tools such as wheel chairs, crutches or walking frames? How wide must be the laid out for sidewalks or lift doors? How much area does a wheel chair parking space require? Above all, here are cities and communities in charge whom are responsible for this type of planning. By the way, SAM is also an interesting opportunity for municipalities to ensure barrier-free access to public authorities, etc..
Accessible alleys
The design of barrier-free (access) routes (DIN 1840-3) plays an important role, especially for public administrations and area planners. The use of certain materials, designs and dimensions ensures that everyone can move safely and sudden falls will be avoided.
These and other questions help identify possible sources of danger:
Which floor materials must be used to minimize the risk of slipping?
How do you install certain floor profiles (ribs and nubs) that guide people with visual impairment?
How much headroom do blind people need in narrow passages?
How strong should be the slope of wheel chair ramps?
What are the possible irregularities in the ground (eg subsidence)?
Increase range of movement through adequate furniture
Furniture also plays an important role in public spaces accessibility. Because benches, chairs, lendable walking aids or the facility of certain rest areas can significantly increase the range of movement of physically restricted groups of people.
Conclusion: implement accessibility with small measures
As a manager of gastronomic, cultural or community facilities, accessibility may not be on the agenda every day. But it should! Because by dealing with it, there will be many advantages for you:
You win more customers or bring back regular customers.
You offer outstanding customer service.
You increase your revenue and achieve a gain in image.
Do you need to invest a large sum for this? No, because accessibility can already be achieved through a smaller, easily implemented and highly effective step.
Whether shopping malls, museums, hotels or restaurants – long walks or overcoming crooked floors are often an issue. Remember to expand your customer base and make sure you can easily and safely move people with walking disabilities or just simply tired legs. A transfer chair, so a modern, mobile chair is the ideal solution for you.