Written by Christian Graf on 23. August 2018 at 8:53.
Fully accessible excursion destinations in Germany – well worth a visit!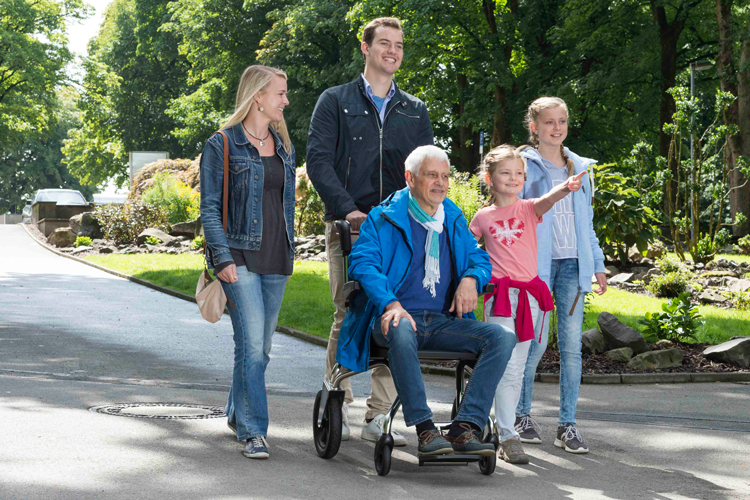 Here we present our favourites, a list of the 10 best fully accessible excursion destinations for wheelchair users – ideal for people with walking impediments or restricted mobility. They are easy to get to and promise an unforgettable experience!
Excursion destinations in Germany offering full accessibility: Where do you want to go?
How about a nice day trip to a beautifully designed park? Or would you prefer to visit a museum? Fortunately, lots of attractions in Germany are also fully accessible for those with walking disabilities. They are a model for other public institutions, which are more than welcome to follow suit.
For example, we can support you with our sturdy, elegant and very practical SAM transfer chair. Simply deposit it at the entrance, just like a shopping trolley – and provide a fantastic extra service for visitors who have trouble walking.
Not only would this be of interest to those who have had a stroke or an illness such as multiple sclerosis; these chairs also provide assistance to pregnant women, those who are temporarily injured or those who are simply less mobile and are often grateful for a wheelchair to rent.
And now for our tips: Have you checked out our favourite zoo in Münster or the nostalgic museum of the Augsburger Puppenkiste?
Grugapark in Essen
The Grugapark in Essen is a botanical garden, playground, sports facility, health resort and leisure spot all in one. Besides rare plant species and a zoo, the Grugapark also offers a gastronomic area, an open-air museum and a concert arena.
Most of the park's facilities are fully accessible, and stairways are equipped with bypass routes for wheelchairs and prams. All the main routes are fully accessible, and with the fully accessible tour and the Garden of the Senses, there are activities specifically for those who are in wheelchairs or visually impaired. Fully accessible toilets are also available.
Dortmund U-Tower
A cultural centre in the heart of the Ruhr district: The Dortmund U-Tower. The focus here is on art and creativity, research and cultural education. The programme includes exhibitions, films, workshops and lectures, concerts, club evenings as well as video and sound art.
Numerous institutions come together in the Dortmund U-Tower. These include the Museum Ostwall, the Dortmund University of Applied Sciences and Arts and the Technical University of Dortmund.
The building is fully accessible to wheelchair users and those with limited mobility, thanks to elevators and stepless transitions. There is also an inductive hearing system in the cinema and a guidance system for visually impaired people in public areas. Fully accessible toilets are also available.
Velderhof in Pulheim
Golf in a wheelchair? Why not! The Velderhof in Pulheim makes this possible! Whether you're a beginner, someone more advanced, a family or a senior citizen – everyone can have fun swinging their golf clubs around. Moreover, the Velderhof offers numerous options for private and business events. An in-house restaurant rounds off the available facilities.
Thanks to the flat terrain on the Velderhof and short routes to the range, even those with physical disabilities can enjoy playing golf. The clubhouse, the restaurant and the course itself can be navigated with a wheelchair or transfer chair and are for the most part fully accessible. The Velderhof also has toilets and parking spaces for the disabled.
Xanten
The Archaeological Park Xanten of the Rhineland Regional Association (LVR) is Germany's largest open-air archaeological museum. At the site of the Roman city of Colonia Ulpia Traiana, you will experience an exciting journey into Roman history. Along with knowledge and research, the park also offers relaxation, fun and games.
The facilities of the LVR are fully accessible and can therefore be enjoyed by wheelchair users. Ramps, separate handrails and lifts make it easier for those with a handicap or limited mobility to visit. The media content is also adapted to their needs: the range is supplemented by easy-to-read texts, tactile objects and audio plays.
Allwetterzoo Münster
The zoo in Münster promises a very special experience: Experience animals up close, enjoy atmospheric evening tours, an Asian barbecue or candlelight dinner in the illuminated aquarium.
All routes at the zoo are fully accessible and paved, and different levels can be accessed via lifts, as can the restaurant area. In addition, lots of concrete parapets have been replaced by floor-to-ceiling glass panes to make it easier for wheelchair users to see the animals. Disabled toilets and parking spaces are also available.
The Allwetterzoo Münster has also expanded its range of services for those with limited mobility: using the transfer chairs from Provita. The SAM, the special chair on castors, offers the opportunity to discover Münster Zoo while sitting in comfort. For lots of visitors with tired legs, this is a considerable relief. Come along to the Allwetterzoo Münster!
Would you like to try out SAM for your facility?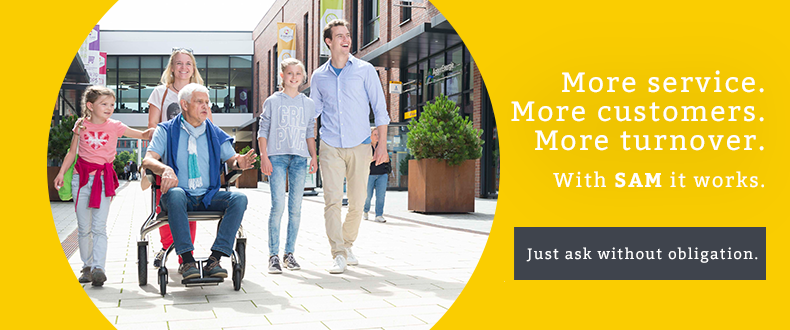 Tierpark Berlin
With almost 9,000 exotic and native animals over an area of 160 hectares, the Tierpark Berlin is the largest parkland zoo in Europe. Huge camel grasslands, a flamingo lagoon, herds of giraffes and elephants all make a visit to the zoo in Berlin a very special experience.
But the zoo also has a lot to offer apart from the animal world: the listed Alfred Brehm House, the historic Friedrichsfelde Castle, exciting play areas and a free zoo train all guarantee fun and adventure off the beaten track of the big city.
The needs of wheelchair users have also been taken into account: routes and toilets are fully accessible, as are the catering facilities.
Chocolatier in Lusatia
In Hornow in beautiful Brandenburg, Goedele Matthyssen has been running a small chocolate factory – the Confiserie Felicitas – since 1992. Its product range features natural raw materials and meticulous production. Numerous variations of chocolates through to individual one-off pieces, such as figures and cards, are all available.
The Confiserie Felicitas and the café are conveniently fully accessible for wheelchair users.
Boat tours in Hamburg
On a boat with a wheelchair? Sure! Lots of different boat tours can be booked in Hamburg. From the harbour round trip to the mini-cruise, all sorts of trips are available. The boats and ships are also fully accessible for wheelchair users via the use of ramps. Some ships also have a toilet for those with disabilities.
Lots of different event and special excursions are also offered: whether you opt for the brunch, the goose dinner, an Italian or Greek evening or for New Year's Eve – an event on the water is always something special!
Steinfeld Abbey in the Eifel Region
The Steinfeld Abbey in the Eifel Region dates from the 12th century and is one of the best preserved in the Rhineland. During a visit, you will learn a lot about the special history of the basilica and the abbey as well as about the existing art treasures.
The guided tours through the abbey can be adapted to the needs of those with disabilities by prior arrangement. This applies both to visitors with limited mobility and to the hearing-impaired.
Puppet Theatre Museum in Augsburg
The Puppet Theatre Museum in Augsburg is a different kind of museum. The "Kiste" shows the famous Augsburg puppets, which still have a large fanbase today. The museum developed into the most successful of its kind in Europe. Temporary special exhibitions and workshops also form part of the programme.
The "Kiste" has everything under one roof: the Augsburger Puppenkiste, the museum, a shop and a café. All of these services are fully accessible, offering unrestricted access to wheelchair users and those with walking disabilities.
Full accessibility at your facility too?
All these facilities are already fully accessible and therefore adapted to the needs of those who can no longer walk very well or for very long. What about offering full accessibility at your facility?
This issue is also becoming increasingly important for restaurant and hotel operators, shopping malls and other institutions such as museums. Demographic change means that our society is ageing, and more and more people are now dependent on a wheelchair or support for their mobility.
The SAM transfer chair from Provita is a good step towards offering greater accessibility and mobility options. It can be used as a flexible alternative to the wheelchair and offers those with limited mobility, short-term injuries and pregnant women the opportunity to rest whenever they need to, and to manage strenuous routes more easily. This is an easy way for you to offer your visitors an extra service! It will even motivate those who would otherwise stay at home to get out and enjoy themselves.
Another advantage of SAM: As with the principle of the shopping trolley, the transfer chair can be rented for the duration of the visit. This allows you to engage in inclusion at your facility without having to completely reconstruct it.
Our conclusions with regard to fully accessible excursion destinations
Fortunately, all over Germany there are opportunities to go on exciting excursions even with a wheelchair. Whether in North Rhine-Westphalia, Berlin and Brandenburg, in the north or south of the country – full accessibility now plays a key role everywhere.
The options range from zoos and museums to cultural centres, boat tours and sporting activities such as golfing.
It is therefore advisable for those who run this kind of institution to think about offering full accessibility and support for those with disabilities. SAM, our alternative to the wheelchair, can enable those who find it difficult to walk or who have a walking disability to get around your facility without too much effort. This extra service increases the satisfaction of your guests and the prospects of them happily coming back at some point – and it taps into new visitor groups!
Would you like to find out all about SAM, with no obligation? No problem!